Treasure State Flywheelers, Inc.
Branch 62 - Great Falls, MT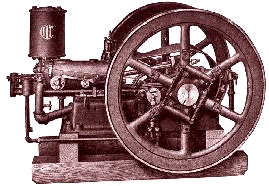 Treasure State Flywheelers started back in 1979 in Great Falls, Montana. Where a group of men and women dedicated to preserving some of the past, acquired and restored antique tractors and stationary engines. At first these people met with each other because they had similar interest and hobbies. They would get together at someone's shop and fix or repair someone's flywheel engine or tractor. Soon they decided they should form a club and see about incorporating it. So in 1981, the Treasure State Flywheelers became incorporated.

The club is formally active in many areas and most of our members also take part in other club events. Each year some of our members take part in the Teton Antique Steam & Gas Threshing Bee, located in Choteau, Montana. With many events happening all over the United States, we try to attend as many as possible.

The Treasure State Flywheelers primary show is held each year at the Montana State Fair in Great Falls Montana. Many stationary engines, tractors, and other machinery are displayed and operated to show people how rural America lived and worked.

The show is a good place to relive the past and welcome friends, both old and new, and to have a good time reminiscing about bygone days.

Each year we try to involve more participation and members to our club. We are always looking for new members and old iron. If you or someone you know is interested in these pursuits, please contact us. Old iron is becoming scarcer with each passing day, so if you have something that you don't know what to do with give any member a call, donations are always appreciated.

The Treasure State Flywheelers meet on the first Sunday of every month, unless noted. The annual dues are $20.00 dollars per year. Are you interested in or are you restoring a stationary engine or an antique tractor. We would like to hear about your project. Please feel free to contact one of the members at (406) 736-5463 or 727-5235
Branch Officers for 2017
President:
Joe Garrity
33 Broken Spoke Lane, Great Falls MT 59404, jdjoe1@msn.com, (406) 799-8650
Vice President:
Ray Lincoln
3735 Wildfire Rd, East Helena, MT 59635, ccat50@q.com , (406) 544-5459
Secretary:
Dianne Sand
P.O. Box 144, Sun River MT 59483, d2sand@3rivers.net, (406) 264-5942
Treasurer:
Julie Meyer
33 Broken Spoke Lane, Great Falls MT 59404, juliemeyer30@gmail.com, (406) 868-1164
Safety Director:
Tom Railsback
3025 8th Ave N, Great Falls, MT 59401, tomrailsback@gmail.com, (406) 454-8758
Editor:
Anita Lincoln
3735 Wildfire Rd, East Helena, MT 59635, ccat50@q.com, (406) 439-0965
Membership Director:
Dick Dahlen
700 Vaughn S Frontage Rd, Great Falls, MT 59404, buschamp5@mt.net, (406) 231-5873
Contact Branch officers listed above for more information on Branch 62 or attending or participating in branch events.