Nor-Cal Antique Tractor & Engine Club
EDGETA Branch 114 - Redding, California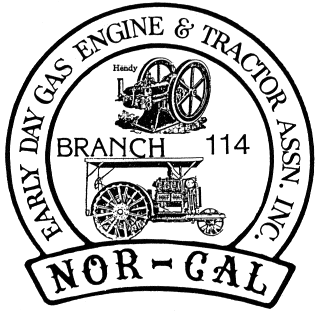 Branch 114 was formed in March, 2000 in Redding, CA to serve the far Northern California areas. We are dedicated to the collection, restoration and display of antique farm tractors, gas engines, and related equipment and implements. And to have some fun! Anyone who has any interest in old engines, tractors, farm implements, mining equipment or even old tools, etc. are welcome to join our club whether they have equipment or not. We are interested in any information exchange or hardware exchange of these types of old gas equipment. Please tell everyone to come and join us for our informal meetings and shows. Our meetings are the first Monday of the month at the Players Pizza Parlor in Anderson, CA.
Primary Membership new or renewal during:
A membership year is April 15th thru April 14th: $30.00 ($18.00 Br 114 + $12.00/yr EDGE & TA National dues)
Associate Membership: $20.00/year for each additional member at one address.
Local Branch 114 membership only: $20.00 (no equipment for display or operation).
NOTE: If primary Members are already members of EDGE & TA, please enclose a copy of membership card and pay $20.00.
You MUST be a member of EDGE & TA (National) to operate any equipment at any sanctioned event.
Make checks payable to: Nor-Cal Antique Tractor & Engine Club
Contact: Sharon Hoag, 530-549-4702
Mail to: Sharon Hoag, Treasurer, 11519 Palo Duro Rd, Redding, CA 96003
Branch Officers for 2018
President:
Steve Zane
30405 Paynes Creek Loop, Paynes Creek CA 96075, [email protected], 530-597-2253
Vice President:
John Aspesi
12925 Gardenia Ave, Red Bluff CA 96080, [email protected], 530-529-0265
Secretary:
Vacant
Treasurer:
Sharon Hoag
11519 Palo Duro Rd, Redding CA 96003, [email protected], 530-549-4702
Safety Director:
Jess Downing
7743 Eastmoor Rd, Shingletown CA 96088, 430-474-5203
Editor:
Sharon Hoag
11519 Palo Duro Rd, Redding CA 96003, [email protected]
Membership Director:
Vacant
Upcoming Events
Click on an event link for more information.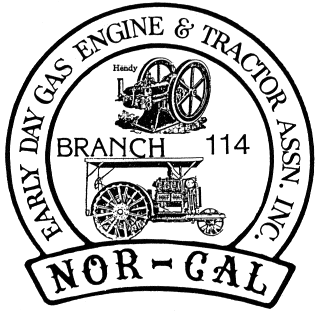 Tenama County Fairgrounds: 650 Antelope Blvd., Red Bluff, CA
Contact: Steve Zane – (530) 597-2253
All EDGE&TA members, including Branch 114 members, must register and show a current membership card in order to exhibit at each Branch 114 function.   All EDGE&TA members are invited to participate in Branch 114 activities.
Contact Branch officers listed above for more information on Branch 114 or attending or participating in branch events.