Southwest Missouri Early Day Gas Engine & Tractor Assn.
EDGETA Branch 16 - Republic, MO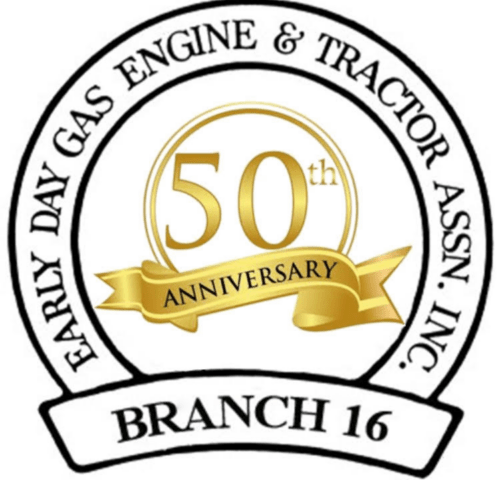 Club Mailing Address:
299 Good Hope RD, Marshfield, MO 65706
Club Contact Email:
hansens21@gmail.com
Club Phone Number:
(417) 859-2630
Congratulations to SWMO Early Day Gas Engine & Tractor Association Branch 16 as they celebrate 50 years! Branch 16 was established November 1971. This is a great milestone and they're still going strong! 
John Berry and James Haynie of Ash Grove Missouri started the Gas Engine Club in 1971. They had written to the EDGE & TA and inquired as to what the rules were to join the national organization. The first meeting was November 23, 1971 at the home of John Berry. There was 6 inches of snow on the ground and it was 4 degrees below zero that night. There were 13 people in attendance and that was how many they needed to become a branch. On December 17, 1971 they received the charter from the national. From that cold night in 1971 we have grown to 150 members today. We have our show every year in conjunction with the Ozarks Steam Engine Association. The Gas Club built a pavilion on the ground for the enjoyment of both clubs. 
We presently meet the First Saturday night of the following months at 6:30 followed by meeting at 7:30. January is election of officers and pot luck, February is chili and soup, March pot luck, April pot luck, May pot luck, June pot luck, August pot luck, October pot luck, November catered dinner and December pot luck and gift exchange at the Library Center, 4653 S. Campbell, Springfield, MO. July pot luck and ice cream is a joined meeting with the Steam Club at the Steam Grounds, September is work day on the grounds followed by meeting at the Steam Grounds.
Branch Officers for 2022
President:
Dean Voris
2273 E FR 460, Halfway, MO 65663 (417) 445-2507 Dean.Mary.Voris@gmail.com
Vice President:
Tom Ryerson
99 Ryerson Drive, Isabella, MO 65676, Ryerson5020@gmail.com , (309) 310-8485
Secretary:
Jessica Hammer
2120 State Hwy. T, Bois D'Arc, MO 65612,  jess.hammer16@gmail.com , (417) 399-2541
Treasurer:
Tina Hansen
299 Good Hope Rd, Marshfield, MO 65706, hansens21@gmail.com, (417) 859-2630
Safety Director:
Robert Craig
602 Craig Rd, Walnut Shade, MO 65771, craig@centurylink.net, (417) 561-4451
Historian:
Larry Voris
2340 S. Luster, Springfield, MO 65804 (417) 840-4418,  larryvoris@gmail.com
Membership Director:
Tina Hansen
299 Good Hope Rd, Marshfield, MO 65706, hansens21@gmail.com, (417) 859-2630
7175 W Farm Road 170, Republic, MO 65738
The National Meeting is being held in North Central Region hosted by Branch 16.
Contact Branch officers listed above, or go to our Branch Website or Facebook Page for more information on Branch 16, attending or participating in branch events.